Dentures in Cedar Rapids, IA
A removable partial denture is an appliance that replaces one or multiple missing teeth. Partials usually have replacement teeth fixed to a plastic base that closely matches the color of your natural teeth and gums. A metal framework connects the teeth and the base. The partial attaches to your natural teeth with metal clasps and sits on the supporting ridges.
For some patients this may be their best option because it can be made at a much lower cost than a fixed appliance. There are situations that a removable partial denture is the only solution to restore the patient's dentition. We will give you all the information you need to make the right decision for you and lifestyle.
If the need arises and a person loses all of their teeth due to decay, periodontal disease, or medical illness - we can fabricate complete dentures to replace the missing teeth.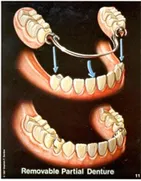 If you are interested in Dentures from Family SmileCare Center, PLC in Cedar Rapids, IA, call us at (319) 362-8657 today!